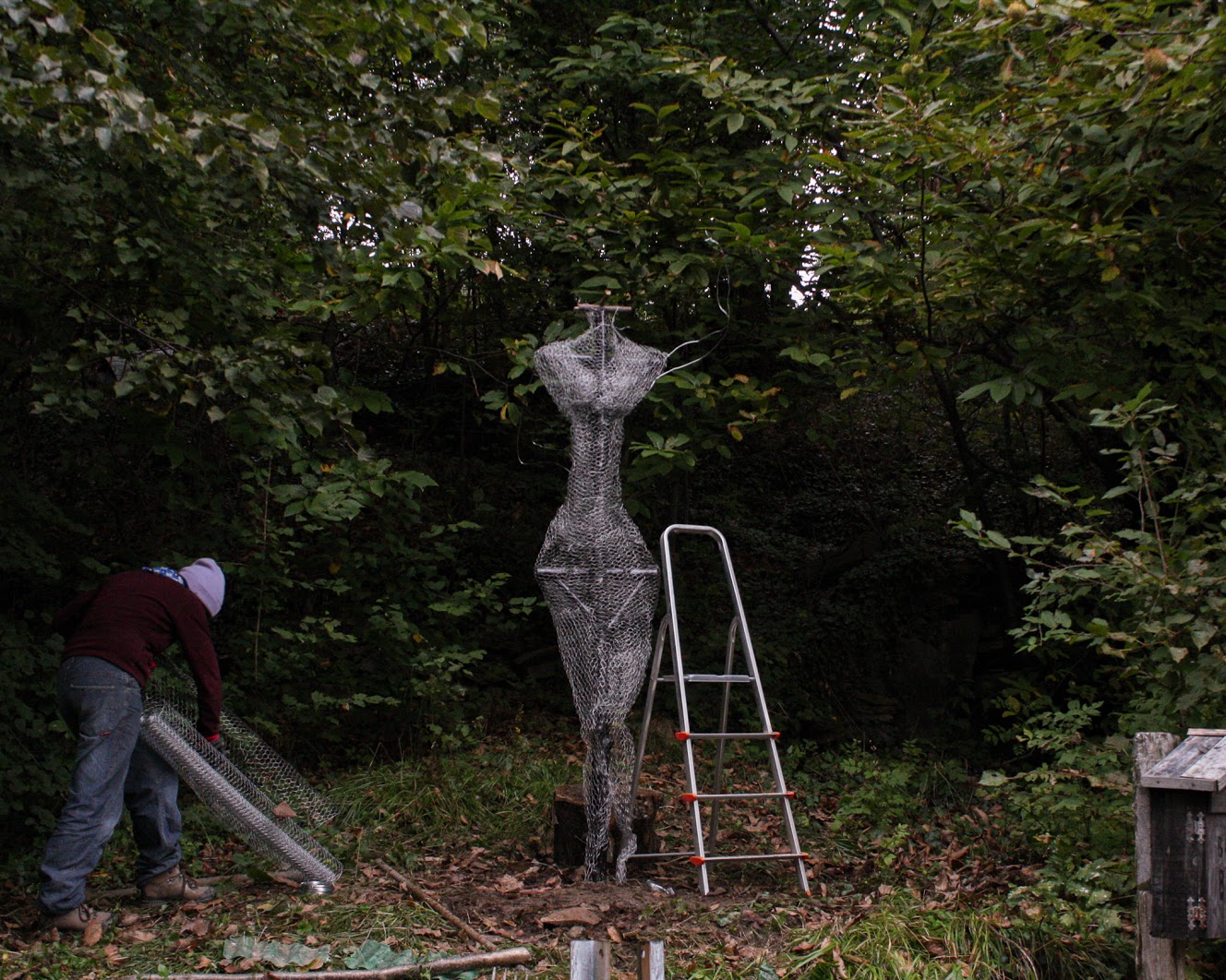 Weaverbirds Collective. Aurora
During the Weaverbirds Collective stay at Art Residency, Stone Oven House, October 2020, the pair, Valentina Argirò and Kiara Watermeyer produced a permanent Land Art sculpture. In the current and challenging climate, two female artists came together to recognise the chance to make art freely as women and channeled this notion into the sculpture, Aurora.
The Land Art project embodies a headless woman with a lotus flower in place of its crown, symbolizing the essence of pure creativity. The sculpture consists of willow that has been harvested and woven by the artists from the Torre Pellice farmland area, with additional materials that make up the fundamentals of the structure, such as a concrete base and constructed wooden pole and chicken fence wire frame work, as the sculpture was built to remain.
With a collaboration of styles in representing body and nature, the artists researched and connected to the valley. Acknowledging past stories of suppression of women healers, otherwise, known as witches which were characterised so by using their botanical knowledge for healing.
This motive and a combination of symbolic figures, such as the Goddess Sakti primordial comes from the Hindu culture,  representing the strength of pure creativity without thoughts, a woman without the head, the channel of universal creation. And the woman plant found in the depiction of Mandragora, a being with a flower on the position of the head, symbol of the "root" of all things, the origin of the cosmos. Compelled the artists to create a representation of "the Great Goddess", which leads within the storyline of the piece.
During their stay as artists in residence the duo took ten days to practically build the sculpture out of planning and collecting resources beforehand, they then spent the rest of the month putting together a showcase of the project to be exhibited at Stone Oven House's group exhibition of artists in residency at the end of the month. With this they created a video narrative of the sculpture formulating a fictional story to tell the tale of the artwork becoming, "Aurora".