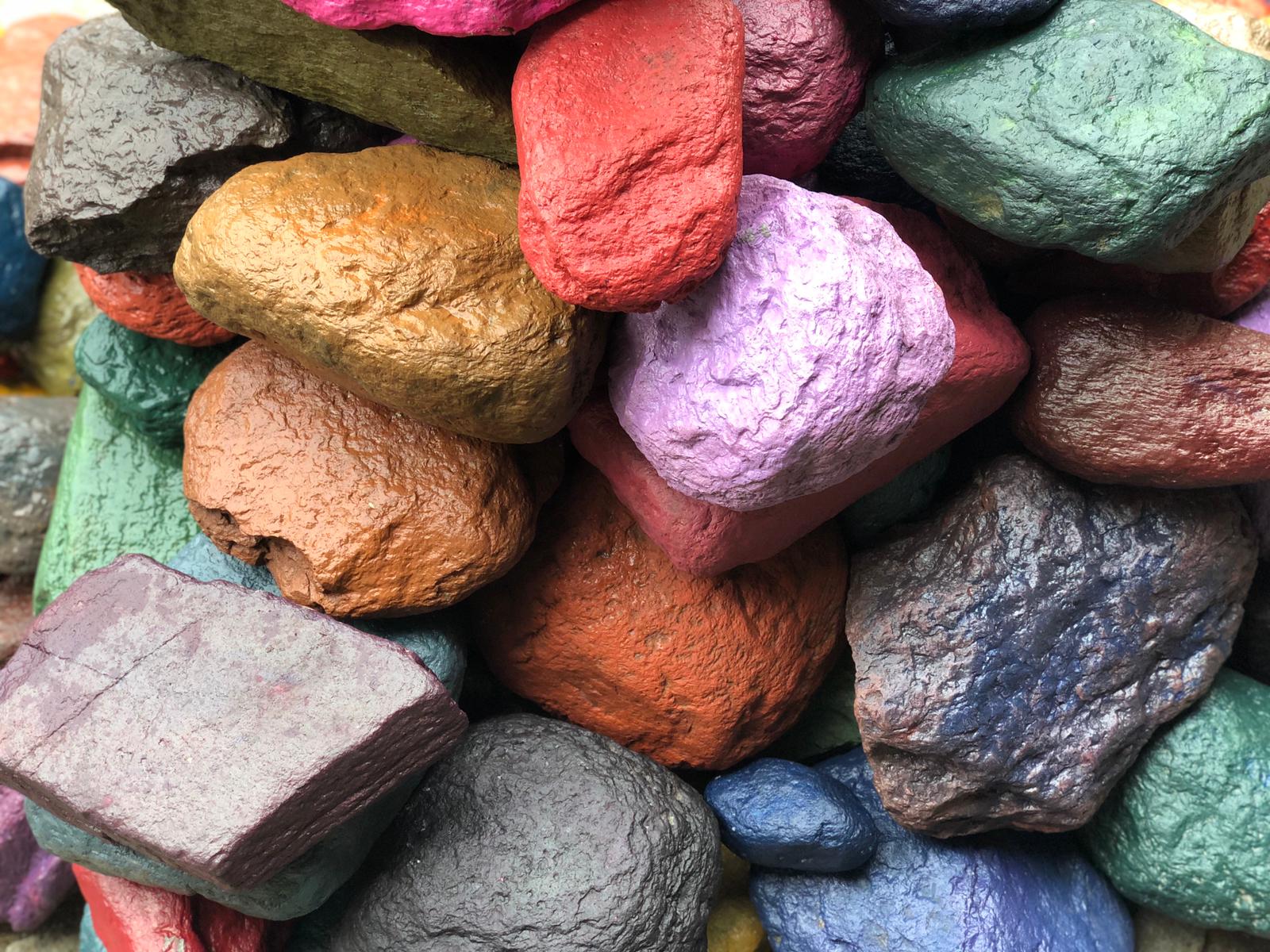 Мaximiliano Siñani. Apaccieta n. 2.
"Apaccieta it's an offering to mother earth (Pachamama) within the native american communities in America (the continent). Its normally a pile of rocks or one color used only. In this case, I wanted to explore the shape of colors while painting every 301 rocks with a different color, apart from the middle ones where I used only fucsia as a base. All the rocks were found, picked and carried within the area of Rorà."
Maximiliano Siñani è un artista boliviano che vive e lavora a Torino. Inizia gli studi alla facoltà di architettura dell'Università Mayor de San Andrés a La Paz e continua poi intraprendendo il cammino artistico a New York alla School of Visual Arts. Assieme a Kim Junsung fonda 67 (www.sixtyseven.us) sulla Lower East Side. Si è esibito in mostre personali al El Museo del Barrio di New York, al Museo Nacional de Arte di La Paz, Y Gallery, Galería Hilo di Buenos Aires e Era Aurora di Torino. Ha fatto parte di tutte le Biennali di Bolivia. È stato anche insignito del premio Sylvia Lipson Allen Memorial" attraverso la School of Visual Arts in New York e del primo premio alla XIX Bienniale di Santa Cruz nel 2014. È stato artista residente presso Kiosko di Santa Cruz , ISCP (International Studies and Curatorial Program) di Brooklyn e CRIPTA747 di Torino. Hanno scritto di lui: Disonare Magazine, Bukow Press, Arte al Límite and A-ediciones arte contemporáneo.
Attualmente Maximiliano è artista residente alla Casa col Forno e il 4 maggio alle ore 16:00 presenterà il suo eccezionale lavoro realizzato durante la residenza. Questa volta sono le pietre, il suo oggetto di ricerca, Qui, dove tetti, muri e confini, sono di pietra.
Per favore, confermare la vostra partecipazione: http://stoneovenhouse.com/visit-it/