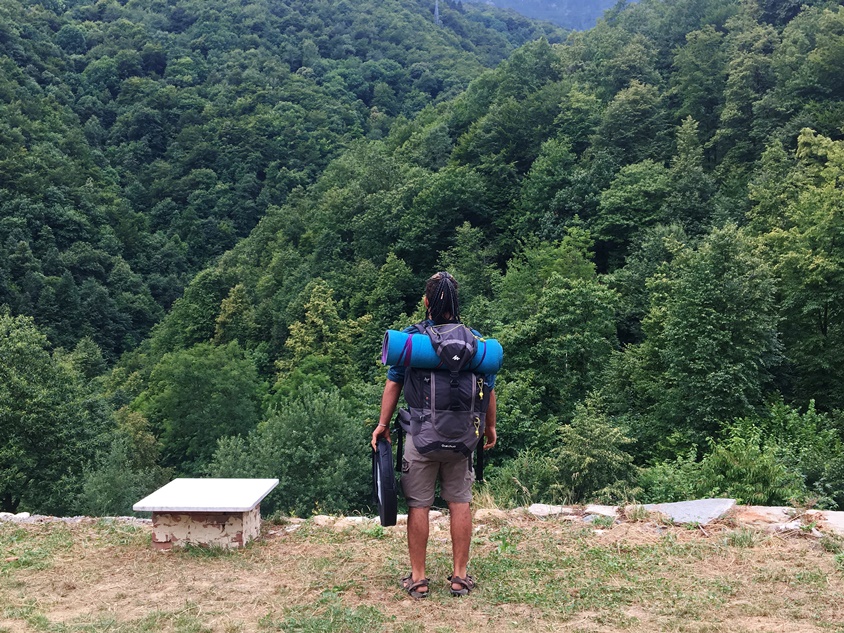 We traveled a lot, and as well as you, we lived in different countries, paying for hospitality with our help. We know how and we do our best to make travelers feel at home. Hope we do it well.

WHAT WILL YOU FIND HERE?
House
In fact, there are four houses. Plus two hectares of land with meadows, gardens, forest and waterfalls.
The houses are big enough, but these are not luxurious villas of Russian oligarchs with golden fountains. This is unique stone buildings, with a more than hundred years history. We do not strive to overhaul everything. Rather, restore and return the lost. All the new things here we make with respect to the culture and history.
There is water, gas and electricity. There is no TV, but there is a projector and a collection of films donated by movie directors who came here. However, we'll talk about entertainment later.
We have hot water. Please use it carefully. We try to be respectful to natural resources. Also gas is expensive in Italy. Beside gas we use firewood for the heating. Firewood requires attention and time. But this is offset by the charm of the fire, which can be watched for hours. In addition we warm up with herbal tea and active work. But in the cold season the house is pretty fresh. If you are afraid of the cold, don't forget to bring your pajamas and wool socks. Or come in the summer, from June to September.
Sleeping place. Your comfortable bed with clean linens, towels, warm lamps is waiting for you. Most likely, it will be a dormitory for three or four people. When there are not many guests, you can stay in a separate room.
Living rooms, kitchen, "bar", exhibition halls, workshops and gardens are also at your disposal. If you wish, you can put up a tent, or pull on a hammock and sleep in the fresh air.
Usually we have breakfast, lunch and dinner together. It helps us to save time, energy and expenses. But the main thing is communication. People of different ages and with different hobbies gather at the table. Conversations are lively and easy. We usually call to the table at 8am, 12:30pm and at 19pm.
Food
We pay a lot of attention to healthy eating. The menu is mostly vegetarian. But there are no restrictions. Often the guests introduce us to the traditional recipes of their countries. So, in addition to Italian dishes, you can enjoy Russian, Chinese, Indian, Peruvian and other culinary delights.
There is always a great wine on our table. We buy it directly from local farmers. We do not force anyone to drink alcohol, but wine lovers are invited to live an additional contribution .
People
Guests - our main wealth. The Stone Oven House is designed as an art residence. There are always artists, musicians, actors, directors and all those associated with art. Here you can witness the creative process and see thebackstage, which is usually hidden from prying eyes. But we have no outsiders. Behind the same table with meters are both beginners, young students, and those who have no relation to art at all. But everyone is interesting in their own way. And if you are reading this text, you have proven yourself as an interesting person.
Experience
Here you can learn with us how to live surrounded by nature. If you are accustomed to the city, you will begin to perceive all natural elements in a new way. You will understand water, touch fire, feel stone, hear earth, see wind.
If you do not know how, then you'll learn how to bake bread, chop firewood, make soap, grow zucchini, heat a stove, clean a fireplace, gather herbs, identify edible mushrooms, roast chestnuts, prepare cement, build walls, make furniture, live without Facebook and turn garbage into something useful.
Entertainment
You can find information about the surroundings and the events on our website: http://stoneovenhouse.com
Wi Fi
To get Wi-Fi you have to walk fifteen minutes to the museum. We do not conduct a network to the house to let the guests rest from the ruthless flow of information.
So, if you have not change you mind and want to come...
WHAT DO WE EXPECT FROM YOU?
Willing to work
First of all, a sincere desire to work and learn. We really hope that you come to us not only for the opportunity to save on travel. And actually you'll get something more than a trivial touristic journey.
We do our best to make your stay comfortable and good, and look forward to an honest return on your part. We need helpers and therefore we are waiting for you.
Flexibility
The work is varied. We will build, break, repair, clean, wash, paint, saw, prick, weed, dig, plant, water, collect and not only. Sometimes you have to do something weird. For example, paint the sculptures of chicken paws in pink or lay out a giant question mark with wooden boards on the ground.
Most of the work we do outdoors, and the schedule may change depending on the weather. On average, the daily work is about five hours, but if we learn today that we work 3 hours, tomorrow, we may have to work seven.
Diligence 
All the work that you have to do, we also often do ourselves and imagine how long time it takes. If it turns out that it takes three hours for an hourly amount of work, we will try to deal with the problem together. If it turns out that you manage to do this faster, we ask you to share your wisdom.
In any case, do not be offended by our directness. If something is done badly, we will not lie that it is good. But this is not a tragedy. Bad work is the result of a mistake. Learn from mistakes. The main thing is to try to make so that the same mistakes are not repeated systematically.
Patience
Please think again if the works we mentioned are interesting for you. If you are a graphic designer or you are studying philosophy of art, your skills will be definitely useful, but don't expect to help us only with artistic tasks. This is not possible. We need a various help.
Sometimes, people who host workawayers face a situation where the helpers didn't meet their expectations and leave before the scheduled date. This creates a lot of problems for those to the hosts. If we accepted you it means that we rejected the other requests. So please be responsible for your request. Our opportunities are limited and we are not ready to accept more than 1-2 volunteers with work away at the same time.
It is impossible to find an immediate replacement for an abrupt assistant. Please do not come with the conviction that if everything is somehow not the way you thought, then you just immediately go to another place. Not sure about us or about yourself, it's better not come at all. If something is not clear, better ask now. We do not want to confuse you. It is important to us that your ideas about our house are true. Please do not hesitate to ask more.