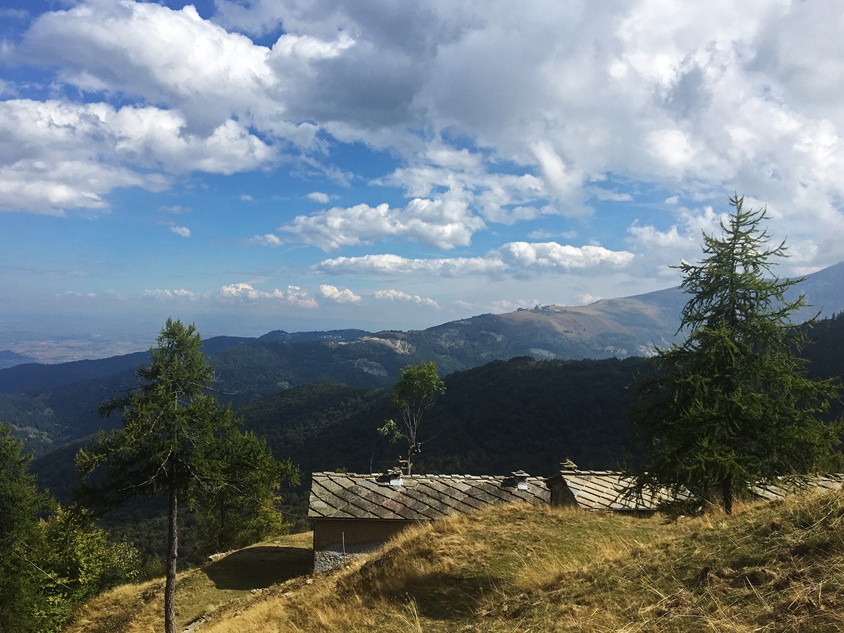 Where to flight?
The nearest airport is in Turin (Turin-Caselle Airport). From there it takes about one hour driving to reach us. But usually there are more flights to Milan. From Milan is about 2–3 hours driving. The simplest option to reach us, if you drive and have enough money, is to rent a car and follow your GPS navigator.
How can I reach you by car?
Follow your GPS navigator, our address and location are here http://stoneovenhouse.com/contacts/. It happens often that with the right address navigator brings you father up to the village or to the other place. Please check if your navigator shows the same location as on the map of our site.
How can I reach you from Milan without a car?
First you have to come to Torino.
You can check which is the airport of your arrival and book the tickets for the direct bus to Turin on flixbus.com or with the other bus companies. Booking the tickets in advance you may save some money. You can also buy tickets in the airport. It will cost you 20–25 euro. The bus will bring you to Vittoria Emanuele street or to the Torino Porta Susa train station.
Another option is to take a bus or a train from the airport to the Central Train Station of Milan (Milano Centrale). Bus will cost you 5–8 euro. Train could be a bit more expensive. In Milano Centrale you switch to the train to Turin. The ticket price starts from 12 euro. The cheapest ride takes about 2 hours.
The last and cheapest option is to get a ride through BlaBlaCar: this is an online platform that connects drivers with empty seats and people traveling the same way. You will share the travel cost with the driver and the other passengers. Sing up on the website blablacar.com and find a ride to Torino or closer to our place.
How can I reach you from Turin without a car?


There are two options.
-You can get a ride through BlaBlaCar: this is an online platform that connects drivers with empty seats and people traveling the same way. You will share the travel cost with the driver and the other passengers. Sing up on the website blablacar.com and find a ride to Pinerolo or closer to our place. You will find below info how to get to us from Pinerolo
-You can take a direct train from Torino Porta Susa or Torino Lingotto to Pinerolo; the cost is around 4 euro. From Pinerolo train station take the 901 bus to Torre Pellice. Usually the bus waits for the train and it departs in front of the ticket office. You can buy the bus ticket at the coffee shop in the station (if the coffee shop is closed, just ask to the bus driver): it costs 2.70 euro. The journey takes about 20 minutes. Get off at Luserna San Giovanni, the bus stop is in a large square in the center of the village.
From Luserna San Giovanni you can easily hitchhike, or we can try to pick you up, but tell us in advance. In a case if you arrive to Luserna and can't find or call us, or your sim card doesn't provide internet connection, you can go to the Le Tre Galline coffee shop. It is just in the main square. Here they provide wifi.
If you decide to hitchhike, ask a lift to Rorà. Stone Oven House is about a 10-minute drive from Luserna San Giovanni. Usually the local people know where we are, however you will recognize the house from the sign on the large iron gate. If someone give you a ride, feel free to invite them for a coffee in the house.
I am an artist. How to apply to your artist in residency program?


Follow the link and you will find useful information: http://stoneovenhouse.com/artist/
I'm a musician, can I play at your place?


We are always very happy to host musicians and singers! But keep in mind that this is more a house than a bar or a concert hall. And it is a project not for commercial purposes: if you come to play here, don't expect to make money. Here you can play in the meadows next to the cows, in the old barn or in the woods. We can promote this event among the friends of the Stone Oven House. It will be more like a cozy home party. For a proposal write to balovin.beccato@gmail.com
I'm not an artist. Can I stay at Stone Oven House as well?


Yes, you can. This place wants to bring together artists, creatives and active people. Please submit the letter you find at this link: http://stoneovenhouse.com/guest-en/
Why do you ask for monetary contribution if you say that you can live without money?
Yes, we have spent some time traveling without a wallet to see and to show if living without money can be real. We are developing this idea with the Stone Oven House project. But one thing is to travel alone with a back pack, and the other thing is to manage four houses having guests from all over the world. However we practice barter and we try to reduce money as much as we can. And we also host those who don't have money at all. But we don't put everything in strict frames. Living without money it's not the main topic here. We try to escape from the market's dictatorship and avoid imposed stamps of the consumer society. May be in the future we'll become even more independent. But now we are still at the beginning of the way and we must pay the bills.
Can I come for aperitif/lunch/dinner?


You're welcome! However, let us know when you want to come at least a couple of days in advance, so you're sure to find us. Even if it is not the first time you come to Stone Oven House, please submit the letter form that you find at this link: http://stoneovenhouse.com/visit.en/
I'm coming for an event/aperitif/lunch/dinner, what can I bring?
Submitting the letter you will find the list of useful things: http://stoneovenhouse.com/visit.en/
I'm going to spend some time at Stone Oven House. What should I bring with me?
Bring whatever you need, nothing in particular. We'll provide you clean bed sheets and towels. From November till May sometimes it's fresh or even cold in the house: Don't forget your warm pijama, warm sweaters and wool socks.
I am your friend. May I have a discount?
We do not offer any services.  So there is no prices and no discounts. We ask only your contribution to cover the expenses. We invite to contribute everybody, even and especially friends. Without friends contribution we would not be able to run such a project. How big will be the contribution is up to you. You can see the recommended minimum based on the average daily expenses but you can donate a bit more to support the developing of the project.
Why should I pay if I come to help?
You don't have to pay. We only ask for your contribution to cover the expenses, such food costs, gas, electricity and so on. While you stay with us you become a part of our community. Your help is also a contribution to the community. Living in this way we can reduce the expenses up to 8-12 euro for person a day. It's much less than you would pay for a bed in a hostel with no food included. But the life quality here is remain high. We breath fresh air, we drink clean water, we  eat organic food, enjoying the environment.
I do not have money at all. Can I come and stay with you?


It is possible, but we can not guarantee it a priori. We try to give the opportunity to stay with us from time to time to someone who can not contribute economically. Sometimes we can afford it, sometimes not. Please contact us at balovin.beccato@gmail.com
Can I cook for my self and not contribute for the food?
The contribution we ask is not only for food. We also consume gas, firewoods, electricity, water. We pay to plumbers and for the other services. However if it's necessary you can cook for you if you'll stay in a separate house. Anyway the shared table is one of the most important elements of the project. It brings people together. So we would be glad to see you joining our table at least sometimes.
Can I just to rent one of your houses and stay alone or with my friends, independent from the community.
It's possible only in times when we don't have the other guests and artists. We have to discuss about it in advance. So please contact us at balovin.beccato@gmail.com.
Is it possible to rent the entire house 
to celebrate my birhday/wedding/retirement?
It is possible, but each case is treated individually. Please contact us at balovin.beccato@gmail.com
What can I bring to you?
If you want to bring something useful for the project: you can bring food, furniture, seeds for the garden, building materials… Actually you will find a list of useful presents when you feel one of the contact forms.
I have some old furniture/plates/pillows e t.c. Are you interested?
We practice recycling and if you want to get rid of any old stuff you can bring it to us. We'll find out what to do with it.
What is interesting to visit near by?
Please read this page: http://stoneovenhouse.com/surroundings/
When is the next event?

Please write us a letter at balovin.beccato@gmail.com with the topic «I want to subscribe for the news». Also to stay updated about the events you can follow our Facebook page: fb.com/stoneovenhouse.com
I want to offer you something in exchange for art or hospitality. What should I do?


Please write us at balovin.beccato@gmail.com